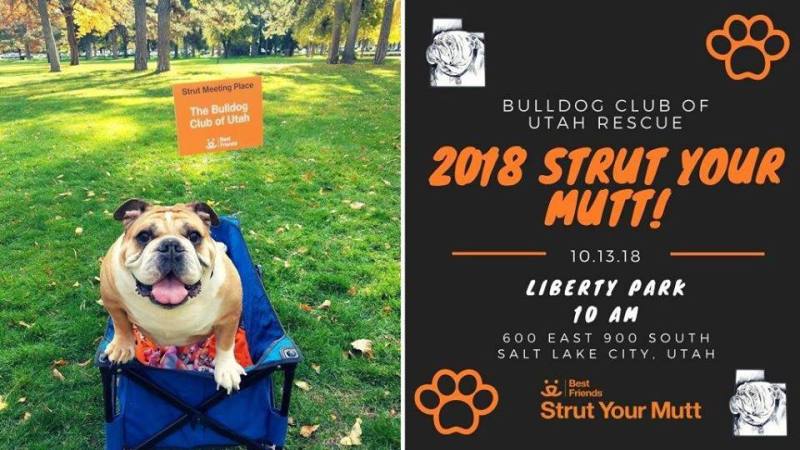 Join the wrinkliest wagon team around for this year's Strut Your Mutt team with Best Friends Animal Society! This is always a fun time to meet other bully lovers, get some fresh air and exercise with your pup, and help raise money for homeless Utah bulldogs. 

Join our team ahead of time to ensure that all of the registration fees make it to our rescue. Onsite registration fees will be donated to Best Friends Animal Society. 

**Please note the walk starts at NOON this year. Registration opens at 10:30 am. 

Participating is easy!

Step 1: Register as an individual walker or JOIN OUR TEAM! 
Step 2: Start fundraising to save lives!
Step 3: Strut at your local event! 

Registration Info
Live event registration - (adult) $15 
Covers adult registration and admission to a Strut Your Mutt event in one of the 14 event cities and includes one adult-size T-shirt (while supplies last).

Live event registration - (youth) $10 
Covers youth (ages 6-12) registration and admission (no T-shirt included) to a Strut Your Mutt event in one of the 14 event cities (age five and under free).

Sign up now to strut and stroll with us, and spread the word to your friends to help us raise even more money!
Click
HERE
to sign up directly. And head over to our FB
event page
for continued updates! 

Come join us with your Booooo-lly for our biggest event of the year, Bullyween! We will have food, a Photo Boooth, the Crate O' Swag raffle, and of course, the costume contest. This event is completely free and a fun opportunity to spend time with adorable bulldogs in costumes. 

This year, we will also be offering the opportunity to participate in the AKC Canine Good Citizen test for $10 per dog, administered by Kim Beck of Positively Tailored Dog Training. What is the Canine Good Citizen test? "Started in 1989, the CGC Program is designed to reward dogs who have good manners at home and in the community. The Canine Good Citizen Program is a two-part program that stresses responsible pet ownership for owners and basic good manners for dogs. All dogs who pass the 10-step CGC test may receive a certificate from the American Kennel Club." 

Learn more about it here: https://www.akc.org/products-services/training-programs/canine-good-citizen/

Testing will begin at 2 PM and is for any breed of dog. 

Don't miss the smooshiest, spookiest event of the year!

​Click HERE for our Facebook event page.