Join us for our second annual Smoosh Face Soiree!! We will be joining Pug Pals of Idaho Rescue and Rocky Mountain French Bulldog Rescue for the smooshiest event of the year. Jackie Petersen Photography will be on site taking photo booth pictures for a small donation, and Falafel Tree food truck will also be there offering lunch options for attendees. For additional details click over to our

FB event page !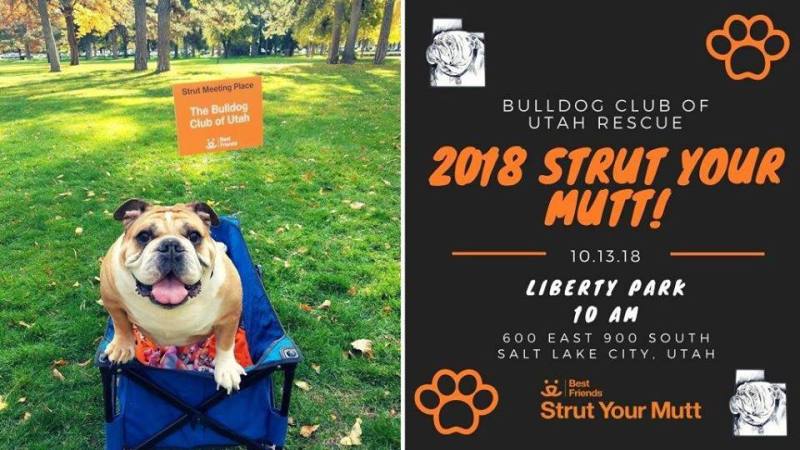 Join the wrinkliest wagon team around for this year's Strut Your Mutt team with Best Friends Animal Society! This is always a fun time to meet other bully lovers, get some fresh air and exercise with your pup, and help raise money for homeless Utah bulldogs. 

Join our team ahead of time to ensure that all of the registration fees make it to our rescue. Onsite registration fees will be donated to Best Friends Animal Society. 

**Please note the walk starts at NOON this year. Registration opens at 10:30 am. 

Participating is easy!

Step 1: Register as an individual walker or JOIN OUR TEAM! 
Step 2: Start fundraising to save lives!
Step 3: Strut at your local event! 

Registration Info
Live event registration - (adult) $15 
Covers adult registration and admission to a Strut Your Mutt event in one of the 14 event cities and includes one adult-size T-shirt (while supplies last).

Live event registration - (youth) $10 
Covers youth (ages 6-12) registration and admission (no T-shirt included) to a Strut Your Mutt event in one of the 14 event cities (age five and under free).

Sign up now to strut and stroll with us, and spread the word to your friends to help us raise even more money!
Click
HERE
to sign up directly. And head over to our FB
event page
for continued updates!